What Property To Buy in Sedona
VIEWS
Sedona is known, worldwide, for its stunning natural landscape. Monumental rock formations encourage a sense of connection with life.
In Sedona, you live in the view—looking out, driving, walking—the scenery fosters a shift in perspective to awareness of nature's beauty. The landscape of mountains, buttes, and red rock spires reveal fascinating shapes and shadows during golden sunrises and crimson sunsets. The changing light of day creates a pantheon of characters and images on the red rocks. Quality of life is naturally heightened by observing wildlife and temperate weather changes. Living in one of nature's most eye-dazzling creations inspires a sense of gratitude.

In Sedona, the beauty of the surroundings becomes an extension of your home. From sweeping panoramic views to distant horizons, Sedona's natural setting creates a larger living space that the soul can stretch out to and become a part of.
FOUR SEASONS' CLIMATE
Sedona's mild climate across all four seasons makes it an exceptional location for year-round outdoor living. Each season offers its own unique beauty, from the vibrant colors of fall foliage to the crisp winter air and occasional snowfall. Spring brings a cascade of purple, yellow, and orange wildflower blooms, and warmer temperatures, while summer offers energy infusing long days and plenty of sunshine. In mid to late summer, dramatic monsoon rains bring cooler afternoons following sheets of rain and thrilling stormy skies lit up bright purple with lightning strikes. Stay inside to watch those!
Sedona homes are designed to take advantage of these seasonal changes, with many featuring outdoor living spaces that are perfect for entertaining or simply relaxing amidst the stunning Red Rock scenery. Whether you're enjoying a cozy evening by the fire pit in the fall or grilling up dinner on a warm summer night, Sedona's great outdoors is always there to be enjoyed.
Experience peace and tranquility or indulge in a state-of-the-art audio/video system while enjoying a meal with your loved ones. Relax by the warmth of your outdoor fireplace and the soothing sounds of water features integrated with a swimming pool or spa. Connect with nature under a blanket of stars and rejuvenate yourself with an invigorating outdoor shower. Imagine sharing your stunning Sedona home with family and friends, creating unforgettable memories amidst breathtaking vistas and spectacular weather. Come, live amidst beauty!

CREEKSIDE LIVING
Snow melt from the San Francisco peaks sustains a continuousa flow of Oak Creek through a canyon considered to be one of the most beautiful drives in the United States. Crazy enough, there is private property along the canyon and along Oak Creek where exquisite private homes exist. If you are lucky enough to be in the market when one becomes available you will enjoy creekside living with the soothing sounds of Oak Creek outside your window. The riparian areas offer a sanctuary for diverse wildlife, making it a special treat to watch herons and ducks. Homes with creek frontage are highly desirable, offering decks or patios above the water for a relaxing respite. A creek-front home along beautiful Oak Creek is the perfect location for a luxury residence and you will want a strong relationship with an experienced agent to acquire such.
POOLS
Sedona luxury homes are truly a sight to behold, especially when it comes to their outdoor entertainment areas and pools. Whether you're looking for a state-of-the-art lap pool or an elaborate outdoor sanctuary, Sedona luxury homes will amaze you. International and local architects have each uniquely contributed to their designs to suit the owner. The finishes are just as impressive, ranging from simple plaster to elaborate Pebble Tec®, crushed quartz, or mosaic tile with custom insets. And let's not forget about the decking - with materials like flagstone, colored, stamped, Kool Deck® concrete or paver designs, you'll feel like you're stepping into a luxurious oasis. The pool design itself is truly a work of art, incorporating Sedona's majestic scenery into every detail. So if you're looking for a relaxing way to complement your Sedona view backdrop, look no further than the stunning pools that await you.

LUXURY KITCHENS
Calling all gourmet chefs! If you're looking for the ultimate kitchen experience, look no further than the gourmet kitchens in many of the luxury homes in Sedona. Gourmet-worthy upgrades will make your heart skip a beat. From top-of-the-line appliances like Viking, Thermador, LG, Samsung, Wolf, Gaggenau, and Lacanche, to stainless steel or beautifully colored enamel finishes, these kitchens are a dream come true. And let's not forget about the ovens and range tops - with 5+ burners, separate grilling areas, double ovens, and warming drawers, you'll have everything you need to create your culinary masterpieces. A separate beverage center, be it coffee or wine is not uncommon. And if you're really serious about your cooking, you'll be thrilled to know that some of these kitchens even feature commercially graded appliances and an assortment of counter surfaces. Some popular options include quartz, soapstone, granite, marble, stainless steel, and concrete. Leather finish rather than high polish, is a direction many kitchen materials are seeing. Each material has its own unique benefits and drawbacks, so it's important to choose the one that best fits your needs and style preferences. The sinks, prep sinks, and vegetable sinks are equally impressive, with stainless steel, copper, composite, or porcelain/enamel finishes and designer hardware from Champagne color brass, satin nickel, and matte black to match.
AVIATION
Private pilots can fly high in the sunny skies of Sedona, Arizona, amidst the world-famous red rocks. With Sedona Airport (KSEZ) just a few minutes drive from your craft, you can enjoy the convenience of being close to your airplane. Recognized as one of America's most beautiful airports, KSEZ is perched on a mesa 500 feet above the town and designed to accommodate any type of airplane. Services include 100LL and Jet A, AWOS, a paved and lighted runway, a service-oriented FBO, a terminal building, and rental cars. With ample ramp parking and hangars in various sizes, it's a real luxury to be only a few minutes away from your airplane. Whether you're flying in from out-of-state or looking for that gourmet lunch or dinner overlooking take-offs and landings, Mesa Grill restaurant at the airport is the perfect destination for aviation enthusiasts.
Greens, Fairways, and Bunkers: Exploring the Beauty and Challenge of Sedona's many golf courses
Sedona's sunshine and stunning terrain have inspired the creation of top-notch golf courses that attract passionate golfers seeking a challenge, variety, visual splendor, fine service, and a superior golfing experience. Daily fees on public courses in Sedona offer affordable options that make it hard to match. Many discerning golfers who prefer private courses have made Sedona their home and exhibit the same discriminating taste in the homes they've created. The same climate that has spawned top golf courses in Sedona also encourages dramatic vaulted outdoor stone entries, patios, viewing decks, and outdoor kitchens. Many golf resort homes in Sedona boast pools with waterfalls and jetted tubs, chef's kitchens, elevators, billiard/pool rooms, media, and wine rooms, private putting greens, and brilliant architectural details. Some of these Sedona home treasures are found under $2,000,000, a great value considering their location in the most dramatic landscape on earth.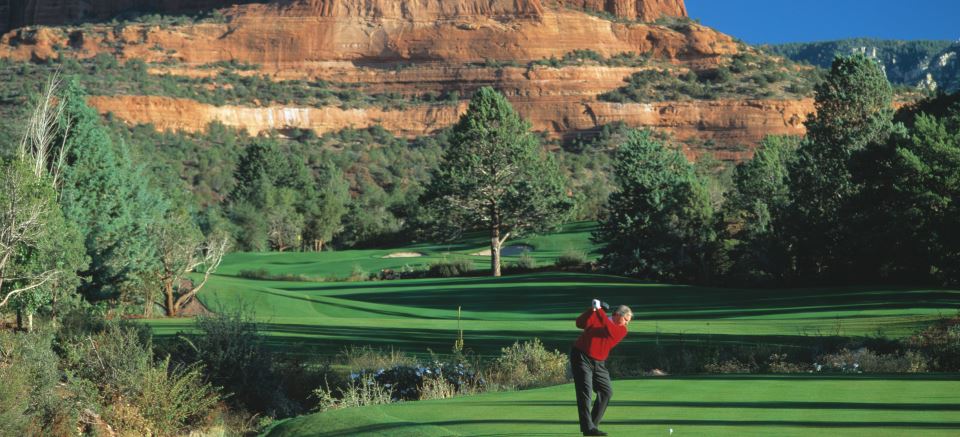 In many instances, a SLREP agent is the exclusive intermediary between you and MLS listed and pocket-listed luxury golf course homes.
A sampling of Sedona's golf courses:
Seven Canyons
"When I first saw this site, it took my breath away."
-- Tom Weiskopf
Magnificently sited on 200 pristine acres, Seven Canyons private golf club is your premier destination for Sedona golf. Surrounded by miles of National Forest lands, Seven Canyons is in perfect harmony with the natural environment and the spirit of Sedona. It is a one-of-a-kind oasis retreat where golf, social activities, and a luxury residential community are elevated to provide you with a relaxed atmosphere of distinction.
Sedona Golf Resort
Winding around the famed red rocks of Sedona, each hole provides a unique adventure. This championship Sedona golf course receives a continuous four-star rating from Golf Digest. Located in the heart of one of the most captivating regions of the Southwest, the thrilling 6,646-yard, par - 71 course is widely considered among the world's most unforgettable golf experiences. If you could play golf in the Grand Canyon, this would be it. Not only is it tucked in between the Red Rocks of Sedona, but it is also just minutes from beautiful Oak Creek. This championship Sedona golf course receives continuous four-star reviews from Golf Digest and has tons of great golf packages to choose from. It is considered among the world's most unforgettable golf experiences.
Oak Creek Country Club
Arizona's Best Overall Golf Experience – Year Round, where guests are treated like members, and members are treated like guests. Open to the public, this 18 hole superbly manicured championship golf course was designed by Robert Trent Jones Sr. and Jr. Oakcreek Country Club is a delight to play for all levels of golfers with five sets of tees ranging from 4,419 to 6,824 yards. Come and enjoy the beauty of Sedona's red rocks and play an equally spectacular and entertaining golf course. Our professional staff is committed to exceptional service and to make your visit with us a pleasurable experience. In the usual Trent Jones manner, the fairways are classic tree-lined doglegs with fairway bunkers strategically placed in the landing areas and greens which are all slightly elevated and surrounded by large swirling greenside bunkers. The golf course is "player friendly," allowing plenty of room for error but always with an opportunity to recover and get errant shots back into play.
"Every hole must be a hard par and an easy bogey" — Robert Trent Jones Sr
Canyon Mesa Country Club
Canyon Mesa is a nine-hole golf course situated in the Village of Oak Creek, 8 miles south of Sedona on Hwy. SR179. This executive golf course is perfect for golfers of all levels, whether you're a novice or an experienced golfer. The course's short length, averaging just 140 yards a hole from the white tees, makes it perfect for beginners. However, the narrowness and difficult greens make it challenging for long-time golfers who are working on "target golf". Canyon Mesa is also known for being the best public golf value in Sedona and provides the perfect recreational complement to the beautiful red rocks of Sedona.