Why Live in Sedona ...
HIKING OPTIONS IN SEDONA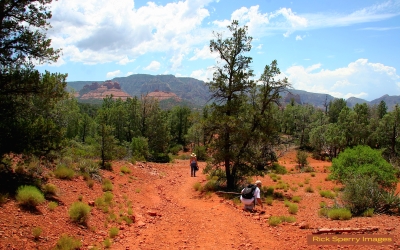 Unlike other areas, where hiking is considered a form of exercise, here in Sedona hiking is a cherished event for the mind, body and soul. Nothing will relieve stress or anxiety so completely as the absence of noise and the smell of fresh air. It is like breathing life back into your core. Plus, hiking is one of the most affordable things you can do, and at the level of adventure that you choose! Thousands of people a year prefer to simply get out of their car on Airport Road to walk up the knoll for a breathtaking sunrise or sunset. Still others set their sights on the top of Wilson Mountain. There are over 100 trails in the Sedona area, some as short as a ten minute walk, others entail an overnight adventure. Regardless of the trail you take, you will be surrounded with the ever-changing panoramas of spectacular views.
BIKING FOR LEISURE OR SPORT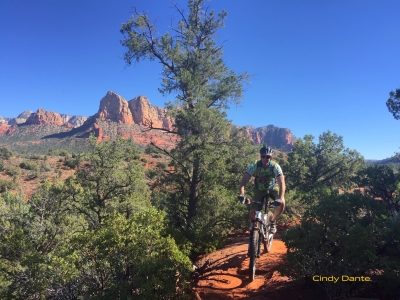 Mountain biking is an exciting outdoor adventure where you have control over the intensity of the adrenal rush you want to experience. If you choose to cycle calmly down Bell Rock Pathways or navigate down the steep embankments of Dead Man Pass, you are still riding through Sedona's seemingly never-ending sky of beauty. Your senses are brought to life as you feel the warmth collected within our famed red rocks or catch a chill as the breezes pass through the beloved canyons. Biking is a good sport for setting personal achievements. The same ride can mean one more drop accomplished, or the ride performed in a shorter time, or just a smoother cadence to the ride. Biking is exhilarating because each outing is a new challenge but always a win for your heart, mind and soul.
Sedona is "Mountain Bike Heaven!" What many people do not know is that it has also become a utopia for road cyclists. The two major arteries through Sedona, State Route 179 and 89A, have been improved to include bike lanes. Even roads with no bike lanes offer an option for road cyclists from Sedona to ride 50-75 miles, or 100-150 miles round trip from Sedona to beautiful places. The town of McGuireville, home of Montezuma's Well and Castle, the historic mining town of Jerome, the territorial capital of Prescott, the alpines of Flagstaff--all have beautiful vistas and great roads for cycling. Road cycling is rapidly becoming one of the best ones reason to live in Sedona.
The Sedona Mountain Bike Festival is a three-day mountain bike celebration that includes a main Expo/Festival, bike demos, shuttled rides, gear vendors, a beer garden, great bands, food trucks, skills clinics and a whole lotta sweet RED SINGLETRACK!
With over 90 vendors there are more demo bikes and more to do than any other bike demo out there. We are always working to make the Sedona Mountain Bike Festival the best event you go to all year. While the core of the event and the vibe will remain the same as previous years, we do have some tricks up our sleeve for this year. Check back for exciting announcements as we get them.
The mountain biking in Sedona is world class. Sedona has over 250 miles of killer singletrack and is a media darling having appeared in magazines countless times in the last few years. Simply put: it's a bucket list destination and this might just be the best way to come see for yourself.
WATER SPORTS IN SEDONA AND THE VERDE VALLEY
Kayaking
Do you want the lazy calm waters of Blue Ridge Lake or the rapid white waters of the Verde River during the monsoons? A hush will come over you at Blue Ridge as you placidly paddle these cool clear waters and watch the bald eagles soar the cobalt blue skies. There are times of the year when the Verde River also offers this same peace, but during the monsoons, the white waters of the Verde River can max out your thrill meter.
Rafting
Although rafting in Oak Creek and the Verde River is a possibility, carrying your raft will be a good portion of your exercise for that day event, with the exception of the monsoon period. To experience superlative rafting is to go 188 miles, in seven days, down the Colorado River for a life-changing, unbelievable escapade. If you have not experienced this, it is a bucket list quest for sure.
Gold Panning
Spend a warm afternoon by the river under the shady leaves of the blossoming Cottonwood trees. Feel the cool water rushing over your feet and climbing up your legs as you stand in the creek to dip your pan. Anticipation builds as you scoop your pan into the water and retrieve a muddy, wet slop. Then gently shake the pan and hear the trickling of the water racing back to the creek. It's a peaceful, calm afternoon and the sun is shining. Suddenly, something shiny twinkles in the pan. You have struck gold! This tiny treasure will brighten your day! Gold panning gives you a new love of the Verde Valley and Sedona.
Swimming and Fishing
Swimming and playing along the banks of Oak Creek, as it meanders through Sedona, is an enchanting way to spend the day. There are numerous swimming holes located throughout Sedona and the state parks, such as Slide Rock State Park, Grasshopper Point, and The Crack. What a delight to take a dip in one of our treasured swimming holes! Test your luck at fishing for rainbow and brown trout in Oak Creek, for bass and cat fish in the Verde River or world class fly fishing at Lee's Ferry.
HORSEBACK RIDING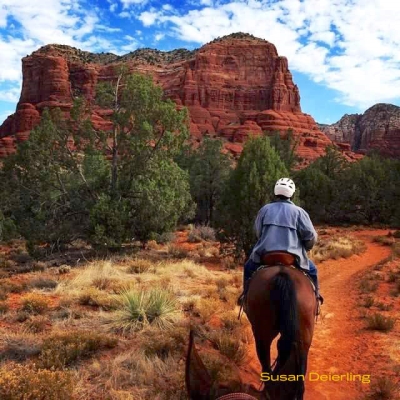 No matter the time of year, riding on horseback throughout the Verde Valley and Sedona is a breathtaking experience. Colorful sunrises and sunsets among the Red Rocks always provide a stunning view. In the summer, you can wander the forest service land under the canopy of shade trees as you listen to the rhythmic splashing of horses' hooves in the creek. In the crisp fall, you and your horse can amble among the falling leaves of red, orange, and yellow. In any season, riding throughout the Verde Valley and Sedona is always awe-inspiring.
CAMPING OVERNIGHT AT RIVERS OR STREAMS
It is our comfortable climate that affords the opportunity for perfect camping weather regardless of the time of year. If you're looking for cooler temperatures, head north 30 minutes to the Alpines. If you're looking for some warmth from head to toe, bask in the sun of Lake Pleasant just 90 minutes away. Camping is free in designated areas of Sedona's public lands. Fee-based parks in nearby Grand Canyon, Bryce Canyon or Zion National Park provide resort style outdoor living.
GOLF OPTIONS IN SEDONA
Ben Hogan, a great American professional golfer, said, "As you walk down the fairway of life, you must smell the roses, for you only get to play one round." Ben's 18th hole in the round of life came in 1997 at age 84. Choosing the direction of one's own life is perfectly applicable to choosing to live in beauty.
Envision the Friday following Thanksgiving with the temperature of 65 degrees at 9a.m. beneath warm Arizona winter sunshine. A chorus from the freshly migrated bird population is the only sound besides a low hum from a golf cart two fairways away and your golf partner inviting you to tee-off. Your eyes scan the perfectly kept fairway and greens, and it is hard to believe there were skies this blue all of your life, and now you have found a way to live and play beneath them and to enjoy the outdoors nearly 300 days each year. Inhale the fresh air and light fragrance of freshly mown grass, proliferating rosemary bushes and the pine scent of trees lining the fairway.
Tee off from a knoll where the backdrop is the most dramatic red rock landscape imaginable. Tall stone spires reach 300 hundred feet into the sky to complete the azure blue canvas on which they lay, pillowed with bright white clouds.
Ah! Watch that perfect 250-yard drive right down the fairway in an uncrowded, no-rush game of mental challenge and pure satisfaction. The choice to relax, the choice to breathe in deeply and inhale the essence of living, the choice to look at the big picture and beautiful surroundings, to THAT sentiment is what Ben Hogan referred.
Sedona has five golf courses for a population of approximately 12,000 residents catering to every skill level and amenity choice. We like our golf in Sedona.
MEDICAL CARE PROVIDERS
Knowing you have excellent medical care in Sedona is reassuring. Sedonans are lucky to have a myriad of local physicians and general practitioners at private offices, urgent care facilities and the Verde Valley Medical Center's Sedona Campus. The 43-acre campus on State Route 89A in West Sedona offers 24/7 emergency care, advanced cancer services and heart and vascular specialists. VVMC – Sedona Campus offers two primary care offices staffed with board-certified internal medicine physicians and a pediatrician. It is owned and operated by the Northern Arizona Healthcare and is comprised of the Verde Valley Medical Center, the Flagstaff Medical Center and the Cancer Centers of Northern Arizona Healthcare.
If you choose an alternative health care path, Sedona offers a diverse selection of homeopathic and natural care providers to partner with you in restoring and rejuvenating your health. Click here for more info.
EATING WELL
The Sedona food scene is an impressive panorama of appetizing delights, featuring a multitude of food choices. Several local restaurants presently harvest their own herbs and vegetables along with buying grass fed meats as well as organic fruits. They fashion raw food dishes and elaborate vegetarian fare all with wholesome quality ingredients. One can still get a great steak and baked potato and many local establishments. These various eateries blend these ingredients into inventive dishes served at acclaimed restaurants with unparalleled red rock vistas as the icing on the cake.
The Sedona/Verde Valley area is also a significant and important wine region--locally, regionally, nationally, internationally--in every aspect of wine making, wine education, and wine tourism. This region features some vintners garnering national awards for their wines. An entire afternoon can be spent touring the various wineries along the creeks and rivers throughout our area.
As a resident you'll have your choice of five grocery stores, all of which feature organic produce, along with hormone-free and pesticide-free meats, wines, and brews from our local or nearby wineries and breweries. In addition to our locally grown and inspired items, there are many choices available from all over the world!
ENTERTAINMENT ACTIVITIES
Chamber Music Sedona
For eight months out of the year (October thru May), you will find Chamber Music Sedona sponsoring music ensembles for your entertainment. What is Chamber Music? The original definition was a small classical group of which there was one performer per instrument. These musicians perform without a conductor, an example being a string quartet. Today, chamber music has evolved, and may include many different forms. One of the venues would be the Winter Music Festival held in January. Chamber Music Sedona is in its fourth decade and continues to be very involved in music education, especially in our area schools.
Sedona Plein Air Festival
"En plein air" is a French expression for painting in the open air. What better way to paint Sedona than to find the perfect setting, pick up a brush with paint and a canvas, and convey the "Sedona magical landscape." This festival brings some of the best plein air artists in the nation to showcase their abilities. The festival usually starts on the third Saturday of October and runs until the following Sunday. As the festival approaches, events will be posted to the Sedona Plein Air website.
Taste of Verde Valley Wine and Harvest Festival
Sedona Wine Festival is a great way to usher in the fall, and it is usually held in the last week of September. Just imagine the display of our local grapes that are being harvested for some of the premier wines of our area, some of which have garnered national awards. Enjoy our stellar restaurants with their epicurean delights and various vendors on display. Sample our fabulous Sedona cuisine that soothes the senses and permeates our intoxicating fall weather.
Illuminate Film Festival
The Illuminate Film Festival had its inaugural debut in May of 2014 to wide acclaim. This festival is all about conscious film. The film festival showcases "cinematic works that raise the vibration, catalyze awakening, educate, inspire and connect." Illuminate is pioneering this new genre and is deeply committed to its grand mission: "To expand human 'consciousness' through cinema and to discover and share the worlds' best in conscious film." These films are screened at two great locations, the Sedona Performing Arts Center and the Mary Fisher Theatre.
The Sedona Film Festival
Touted as the "Fest to Impress" by MovieMaker Magazine, the Sedona Film Festival has been recognized as one of the top festivals in the nation. In nine days you will experience an entertainment extravaganza of the best independent films from around the world. This presents an opportunity to hobnob with celebrities who are frequently on hand to introduce their works. A Life Time Achievement Award is presented each year to a legend in the motion picture industry. Past recipients include Tony Curtis and Joan Collins.
Spirituality and Personal Growth
Sedona thrives as a center for spiritual and personal enrichment. Some believe Sedona's powerful vortexes and energy fields call to them. People come from across the globe to experience spiritual healing, meditation and self-exploration. Enhanced by blue skies, clean air, the mesmerizing effects of the red rocks and the clarity of the night skies, Sedona provides a place for quiet personal growth as well as active involvement in self-enrichment. From spas and yoga to hiking and outdoor adventures, from metaphysical studies to conventional spiritual pursuits, Sedona welcomes all on their unique journey.
OTHER UNIQUE ASPECTS OF SEDONA
Sedona is just 19 square miles with a finger-like border of forest service surrounding the city. This provides miles and miles of easy to access entertainment of nature.
Scenery & Views
Fall canyon color changes, spring fed Oak Creek, white bark sycamore trees with expansive bases and limbs reaching high up into the blue sky, crimson red rock formations and fascinating shapes of huge sandstone monoliths are dotted throughout Sedona for you to enjoy.
Historical Sites
Explore ancient history in several, public accessible, ancient Native American ruins. The Honanki, Sinagua, Palatki and Apache tribes left much evidence of their existence through petroglyphs to enjoy.
Oak Creek Canyon
A unique entertainment and cool canyon meditation, some consider this place, which connects Sedona to the Flagstaff mountains, to be the smaller cousin to the Grand Canyon because of its scenic beauty.
Chapel of the Holy Cross
Built into the buttes of Sedona, the chapel was inspired and commissioned by a rancher and designed by Marguerite Brunswig Staude who was inspired by the completion of the Empire State Building in 1932. It was completed in 1956 and continues to be open to the public to enjoy and admire.
Tlaquepaque
With over 20 specialty shops, 18 world-class galleries and 4 restaurants, located in a creekside Mexican style plaza, shopping and eating enjoyment is never ending. A great place to relax and spend the day.
Red Rock State Park
Moonlight hikes, creek side picnicking, and wildlife are part of the enjoyment in this 286-acre oasis once part of the Smoke Trail Ranch. The ranch, at one time, was owned by Jack and Helen Frye, who were wealthy and fascinating early twentieth-century residents of Sedona. They altered the landscape with their love of beauty, vision for preservation and the money to accomplish their goals for Sedona.
Planes, Trains & Helicopters
Sedona Airport is host to what is considered one of the most powerful vortexes in the community. A top-shelf and modern restaurant and bar gives patrons the view of nearby landing private airplanes and on-the-spot helicopter rides to thrill!
Seeking sunsets!
Sunsets and moon risings are "events" in Sedona. Hundreds gather, daily, at the Sedona Airport Mesa to take in the multiple colors of the Arizona skies. Blue Moons seem to take up an entire section of our protected nights skies several times each year.
Stones, Rocks and Minerals in Sedona
Sedona is known worldwide as a place of interest for geologists and rock hounds. The stratas exposed on red rock cliffs were under water for millions of years and shape the face of these mountains so each layer can be explored.
Verde Valley Wine Trail
Sip your way through local canyons and along mesa walls to enjoy the fruits of the winemaker's labor. Amazing local wines are available for tasting and purchase in five major, privately owned wineries.
Spas
Top-rated spas providing world class beauty and rejuvenation services are available throughout the area. A myriad of massage services, creative facials, along with unique mind, body and soul relaxation treatments are offered by gifted professionals.
Sedona Heritage Museum
Western history buffs, especially, will love every aspect of the passion for preservation of local history, so very rich and varied, and much of it is housed on this historical site and museum. It was once a homestead for original pioneers, the Jordan Family, and is now continuing to preserve an ever-growing history of Sedona.
MOST COME TO PLAY IN OUR BEAUTY--WE SUGGEST YOU LIVE IN BEAUTY!
Maybe a better question would be: Why anywhere but Sedona?!